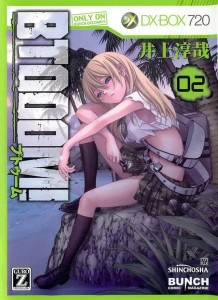 Title:
BTOOOM!
Japanese:
ブトゥーム!
Date Aired:
4/10/2012
(TV series)
Genres:
Action, Psychological, Romance, Survival horror, Suspense
Director:
Kotono Watanabe
Written by:
Yōsuke Kuroda
Studio:
Madhouse
Network:
Tokyo MX, AT-X, SUN, KBS, TVA, BS11
Opening Theme:
"No pain, No game"
by Nano
Ending Theme:
"Aozora" アオゾラ)
by May'n
Main Cast:

Ryōta Sakamoto (坂本 竜太)
voiced by Kanata Hongō

Himiko (ヒミコ) / Hemilia (ヘミリア)
voiced by Suzuko Mimori

Kiyoshi Taira (平 清)
voiced by Tōru Ōkawa
Main Antagonists:

Kōsuke Kira (吉良 康介)
voiced by Yuichi Nakamura

Nobutaka Oda (織田 信隆)
voiced by Nobuhiko Okamoto

Masahito Date
TV series PV:
http://www.youtube.com/watch?v=iDtW4D7uLTI
Imagine-Nation review:
http://www.youtube.com/watch?v=6Zh5dhdsec8
Official website:
http://www.btooom.com/
Synopsis:
The story centers around Ryūta Sakamoto, a NEET (Not in Education, Employment, or Training) young man and a top-ranked player in the online combat
Game
Btooom! One day, he wakes up on a tropical island without remembering how he got there. He sees a figure in the distance and asks for help. However, the figure responds by throwing something at Ryūta — a "BIM" bomb. In that moment, Ryūta comes to realize two things: one, his own life is in danger, and two, he is now in the world of Btooom!